FTC-1000 AI Facial Recognition Temperature Scanner
(with Mask Detection)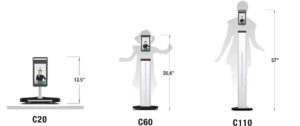 * The FTC-1000 is not a medical device and should not used in the diagnosis of any disease or other conditions
Double Protection
Secure your facilities by using the FTC-1000, which detects any abnormal temperatures. It will also detect if a mask is worn to ensure the regulation is followed. You can also increase the security level by setting up the facial recognition mode.
This station is the perfect solution to manage customers' entrances and allows you to act quickly.
No Pressure & User-friendly
The FTC-1000 detects temperatures while leaving your customers at ease.
Control
The FTC-1000 can activate a door operator or can be installed on a turnstile to manage entrances.
Email Notification
Automatically sends an email notification when an abnormal temperature is detected or when the mask is missing.
Housing material:
Aluminum alloy, ultra-white tempered glass panel.
Dimensions:
8.6 x 4.4 x 0.85 inch.
Installation:
On floor, gate, desk, stand, wall
Face database:
Capacity of 30,0000
Event buffer:
25,0000
Relay output:
C-NO-NC
NDAA compliant:
Yesl
Type:
2MP camera.
Sensor:
1/5″ GC2145, 1/2.8 SONY Starvis IMX307.
Resolution:
1920*1080 30fps, 2MP.
Lens:
2.4mm, 4.5mm
Screen:
7 inch IPS HD LCD screen, 600*1024
Measuring distance:
1.5 to 4 feet (recommended 2.5 feet)
Accuracy:
+/-0.5°F (0.3°C)

Detection:
Body temperature, mask
Network and System Specifications:
Main processor:
MX3520
Operating system:
Embedded Linux.
RAM:
DDR3 512 MB.
ROM:
EMMC 8GB.
Protocol:
IPv4, TCP/IP, HTTP.
Interface:
RJ45, 10M/100M.
Posture:
Vertical 58° – 60°, horizontal 35°
Occlusion:
Ordinary glasses have no effect on recognition.
Response speed:
200 ms.
Area:
Full screen recognition.
Electrical Specification:
Power supply:
12 Vdc/2A (included)
Power dissipation:
≤ 12 W